Spring Permaculture Skill Share
Saturday, April 22nd 10:00-5:00
$20 or Pay What You Can, $15 for Members, $5 for lunch
This day-long festival of workshops will help you get your home and garden ready for a great year of growing.
Estelle Drisdelle from Community Forests International will open the day with an introduction to Permaculture, and an inspiring account of her personal journey with it, from homesteading to farming.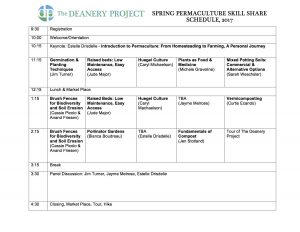 Pre-registration is preferred, but not required- registration at the door is available! Click this link, and complete the form to register, or contact us at thedeaneryproject@gmail.com.
If you're driving to the Skill Share, or are looking to hitch a ride, follow this link and complete the information pertinent to you to rideshare.