---
Music & Bonfire Night! July 7th or 8th (date TBD) 
Join us under the stars for an evening of performances, jamming around the fire, and baked goods! If you're interested in performing on stage, please et us know, otherwise bring yourself and your voice or instrument for an informal "jam" around the fire into the evening.
---
EarthSeekers Day Camp August 1st-4th
Day camp for youth aged 9-12, with a focus on outdoor adventure, learning about the environment, and how we can take care of it! Four days spent exploring climate change, wildlife conservation, plastic pollution, and water through arts & crafts, music, and outdoor play.
Those interested in registering should contact thedeaneryproject@gmail.com.
---
Permaculture Design Certification Course with P3 August 14th-27th
RECEIVE $50 OFF IF YOU REGISTER PRIOR TO JULY 15TH!
We are excited to be partnering with P3 Permaculture this August to offer a 2-week intensive PDC! This course aims to equip students to feel confident in their ability to design positive solutions in their gardens, communities, and lives.
The Permaculture Design Course is a participatory and dynamic learning experience; classes include in-depth permaculture theory, design methodology, exercises, and group projects. They also include a whole lot of deep questioning, laughter, and growth!
The curriculum we follow at P3 was developed by the late Bill Mollison in Australia in the 1970's, and is today regarded as the standard in permaculture education, recognized and respected worldwide.
COURSE CURRICULUM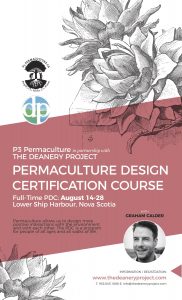 Part 1: Permaculture Fundamentals ​
>Introduction, Ethics, History & principles
>Concepts, Methods & Themes of Design
>Pattern Observation
​
Part 2: Understanding Ecosystems
>Climates / Water Systems
>Trees and their Energy Transactions
>Soil Systems
Part 3: Special Topics
>Earthworks and Earth Resources
>Aquaculture & Aquaponics
Part 4: Specific Climates
>Drylands / Cool Climates / Tropics
Part 5: Global Strategies
>Strategies for an Alternative Paradigm /
>Final Design Project ​
To learn more or to register, email P3 at pdc@p3permaculture.ca or visit their website.