Permaculture Design Certification Course with P3
Permaculture Design Certification Course with P3 August 14th-27th
RECEIVE $50 OFF WHEN YOU REGISTER PRIOR TO JULY 15TH!
We are excited to be partnering with P3 Permaculture this August to offer a 2-week intensive PDC! This course aims to equip students to feel confident in their ability to design positive solutions in their gardens, communities, and lives.
The Permaculture Design Course is a participatory and dynamic learning experience; classes include in-depth permaculture theory, design methodology, exercises, and group projects. They also include a whole lot of deep questioning, laughter, and growth!
The curriculum we follow at P3 was developed by the late Bill Mollison in Australia in the 1970's, and is today regarded as the standard in permaculture education, recognized and respected worldwide.
COURSE CURRICULUM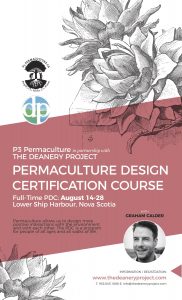 Part 1: Permaculture Fundamentals ​
>Introduction, Ethics, History & principles
>Concepts, Methods & Themes of Design
>Pattern Observation
​
Part 2: Understanding Ecosystems
>Climates / Water Systems
>Trees and their Energy Transactions
>Soil Systems
Part 3: Special Topics
>Earthworks and Earth Resources
>Aquaculture & Aquaponics
Part 4: Specific Climates
>Drylands / Cool Climates / Tropics
Part 5: Global Strategies
>Strategies for an Alternative Paradigm /
>Final Design Project ​
To learn more or to register, email P3 at pdc@p3permaculture.ca or visit their website.