Paint the Deanery Art Gallery
On August 21st, 2016 thirteen artists gathered together for the day to take inspiration from each other and this beautiful space. The paintings they made are all for sale, with half of the proceeds going to the artists, and half being a fundraiser for The Deanery.
Should you see a piece you like, simply give us a call at The Deanery, or send us a message via email to make your purchase. All prices are listed next to titles of pieces.
A special thank you goes out to our artists for the donation of their time, effort, and beautiful works.
---
Artist: Gail Davis, Annapolis Valley
Born in Saskatchewan this artist has made Nova Scotia her home for many years. She has travelled throughout Canada but finds that the coastlines, hills, and valleys of Nova Scotia give her the inspiration to paint the beauty of the region.
Over the many years that she has been painting, she has received a Bachelor of Arts from the University of Saskatchewan, painted backdrops for musicals, studied with several artists in classes and workshops using various mediums and techniques in oils, acrylic, and water colour.
While Gail enjoys working on her own, she values the support of her community of working artists, and is a member of the Evangeline Artists Co-op, Newport Landing, Avonport, and Winding River Art Gallery. Her paintings are in private collections in Canada, the USA, Australia and elsewhere.
Pieces: Summer Retreat $125 16″x 12″ (Left) SOLD ; Dragonfly Summer $60 10″x 10″ (Right) SOLD
---
Artist: Mary Metz, Halifax
Mary is a fourth year student at the Nova Scotia College of Art & Design University. Originally from New Brunswick, she now calls Dartmouth, Nova Scotia home as she achieves her bachelor's degree in Fine Arts and Art History. She works primarily with oil and acrylic paint and prefers to use her body as a tool to paint in order to remove barriers between herself and the art. Mary is heavily inspired by repetition and often uses pointillism to represent feelings of detachment through dotted pattern
Piece: Deanery $250 16″x 24″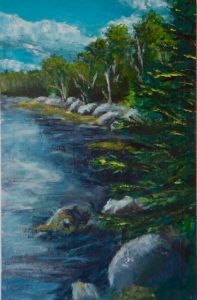 ---
Artist: Cathy Brown 
CC Brown believes sunrise and sunset are overrated when compared to noon and 2 am. She was born with an incurable affliction which causes various items she walks by on the street to follow her home.  It may be related to her ever-expanding talent for killing products she likes. Or not. In any case, she can only break the gravitational attraction by twisting and warping objects into new shapes that she can finally achieve peace.  Sometimes this process spans years. She has a fundamentally cat like distaste for being seen, but if you wait patiently, she may suddenly appear beside you as if she had been there all along. Try not to react as this will scare her off. She does like treats in the form of genuine complements. Given privately. At a distance so she can enjoy them probably later if she feels like it. Someone once told her she had a fine sense of the absurd and that has been her on and off motto ever since.  All of this is true today but may be subject to change without notice.
Pieces: Deanery Coastal Path $180 10″x 20″ (Left) SOLD ; Deanery Coastal Path #2 $180 10″x 20″ (Right) SOLD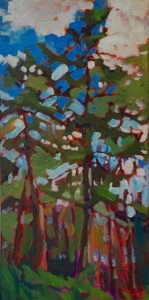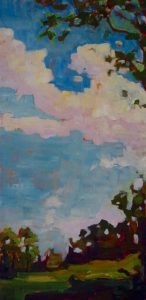 ---
Artist: Alex L. King, Halifax 
Piece: Untitled $350 22″x 28″
---
Artist: Minaz Jantz, Seaforth
Living the life as an artist is more that just a pretty painting at the end of a creative session. Once committed to the artist eye, nothing in life will look the same, as everything I experience comes out in expressing something unique for every painting. I commit myself everyday to something ART related and can say I am forever an insatiable student of life and LOVE to learn new things, which inevitably guide me to discover more of the world and to share my artist's life journey with you in every painting. To read more about my artistic journey, processes and tips, I invite you to check out my paintings, drawings and illustrations for books at www.artgirlgallery.com t. 902-827-5690 e. minaz@artgirlgallery.com
Piece: The Red Cottage $50  12″x 9″ (Unframed)
---
Artist: Holly Lennox, Truro
Holly received her art training at the University of Toronto and Sheridan College. For many years she worked in the animation industry making cartoons for TV. She later moved to Truro where she taught animation at the Nova Scotia Community College for fifteen years. Holly is recently retired and hopes to spend more time with artistic pursuits.
Piece: Untitled $50 9″x 6″ SOLD 
---
Artist: Karen Lia Schlick, Musquodoboit Harbour
Karen graduated from the Nova Scotia College of Art and Design with a BFA and a Master's in Art Education. Her published thesis topic was "Art and Healing: A Perspective for Art Education". She taught art in the public schools for 30 years. .
She was awarded the Canadian Fitzhenry and Whiteside award for excellence and innovation in art education, in 1996. She was also named Nova Scotia Art Educator of the year by Visual Arts Nova Scotia. She has exhibited at Mount Saint Vincent gallery, Eye Level, Mary Black Gallery and her lithographs are part of the art bank collection in Nova Scotia.
Pieces: Sea and Forest $60 11″x 10″ (Left); Forest $60  11″x 7″ (Right)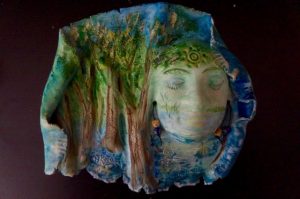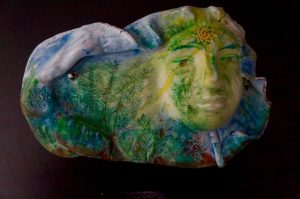 ---
Artist: Hannah Spinney, Halifax
Hannah is going into her fourth and final year of study at the Nova Scotia College of Art & Design University. Born in the Annapolis Valley, she resides presently in Halifax, though soon she will find her home elsewhere as she sets off to pursue her Masters Degree in Fine Arts. She works in a variety of mediums, choosing drawing with conte and chalk pastel and painting in oil as the modes through which she most often chooses to express her creativity. Hannah works intensively to capture the wonder of the 'natural world' and pursue the sublime, through imagery that is both realistic and expressive.
Piece: My Walden $200 18″x 24″