Maple Tree Tapping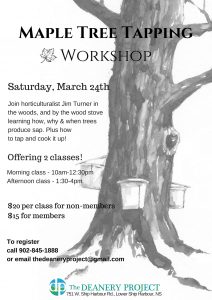 A yearly favourite, join horticulturalist Jim Turner in the woods, and by the wood stove learning how, why & when trees produce sap. Plus how to tap and cook it up!
The weather has been quite unusual this winter, however this event is still on whether the sap is still running or not. We have begun tapping our trees so there will be sap to demonstrate!
There will be 2 classes offered on Saturday March 24th
10:00am-12:30pm
1:30pm-4:00pm
$20 per class for non-members
$15 for members
To register please call call 902-845-1888 or
email thedeaneryproject@gmail.comt or
click here to do so on line.
www.thedeaneryproject.com